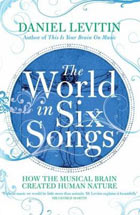 "Music seems to have an almost wilful, evasive quality, defying simple explination, so that the more we find out, the more there is to know, leaving its power and mystery intact, however much we dig and delve. Daniel's book is an eloquent and poetic exploration of this paradox." Sting.
If what Sting has said about Daniel Levitin's second book,The World in Six Songs: How the Musical Brain Created Human Nature, sounds complicated, rest assured it is more entertaining than anything else! Following on from his best selling book This is your Brain on Music, Levitin, the session musician turned neuroscientist, now blends art and science together and explores how music is perceived both culturally and scientifically.
Dipping in and out of personal musical memories ("I'm standing right next to the bed where Jon and Yoko launched this protest, where they sang the song. I hear it playing in my head..."), Levitin floats from The Supremes to Beethoven, The Beatles to Ella Fitzgerald in his quest to truly understand music and its meanings. Split into six categories: Friendship, Joy, Comfort, Knowledge, Religion and Love, music is the puzzle Levitin passionately pieces together.
Have you ever wondered why certain melodies stick in your head or why gushy love-songs make you feel emotional? Have you ever argued with someone over what gets played on the radio? If so, this book might really relate to you. With suggestions that music has been an evolutionary necessity (Levitin believes that it was music and dance which aided communication and self-protection before the spoken word), our love for music is not as new as we think.
"...how might these different functions of music have influenced the evolution of human emotion, reason and spirit across distinct intellectual and cultural histories? What role did the musical brain have in shaping human nature and human culture over the past fifty-thousand years or so? In short, how did all these musics make us who we are?" Levitin.
Levitin invites us to join him on a journey of musical re-discovery and enlightenment and by answering some of these questions, we can start to learn about ourselves along the way.
David Levitin's The World in Six Songs: How the Musical Brain Created Human Nature is priced at £14.99 and available now.